Folks —
This grassroots team has been by my side since day one. Even when the odds were stacked against us, even when people said we didn't stand a chance, you remained steadfast to the idea that our best days still lie ahead.
So I want to thank you, Steven. Thank you for volunteering your time. Thank you for chipping in some of your hard-earned paycheck to help elect me, Kamala, and Democrats down the ballot. And thank you for supporting us all as we work to build this country back better.
I want to take a moment to share with you the latest updates:
---
The American Families Plan
My American Families Plan is a once-in-a-generation investment in the foundations of middle-class prosperity: Education, health care, and child care. Take a look:
Right now, too many Americans are struggling to cover basic expenses and make ends meet. An economy that fails so many of us is not only unfair, it's unsustainable.
The American Families Plan will make transformational investments in our kids, our families, and our economic future — because we know that when our families do well, our nation thrives.
Learn more about how the American Families Plan will support you, your family, and your community →
---
The American Jobs Plan
Now is the moment to reimagine and rebuild a new American economy — and my American Jobs Plan does just that. From rebuilding roads and bridges to investing in research and development, the American Jobs Plan will create millions of good-paying jobs, rebuild our nation's infrastructure, and position the country to be a global competitor.
The American Jobs Plan invests in America in a way we have not since we built the interstate highway system and won the Space Race. Learn more about the plan →
---
The American Rescue Plan
I'm proud to say that thanks to the American Rescue Plan, help is finally here and folks nationwide are feeling relief. Just take a look:
This historic piece of legislation is helping the country heal after a year of tragedy and hardship. Visit our website to learn more about the American Rescue Plan and how to access direct relief.
---
Our Best Days Lie Ahead
Democrats passed the American Rescue Plan, answering the country's call for help and getting folks the relief they desperately need.
You — this grassroots team — made that possible, Steven. Every dollar donated and hour spent volunteering played a crucial role in taking back the White House, flipping the Senate, and maintaining our House majority.
But our work is far from over. While we work with Congress to pass the American Families and Jobs Plans, we're counting on you. By supporting the DNC, you're helping our critical efforts mobilizing volunteers and the public, spreading news of our progress far and wide, and ensuring our party can elect more Democrats in the years to come.
If you're able, please consider chipping in $25 to the DNC. Anything you contribute today will go a long way in supporting Democrats running for office up and down the ballot in 2021, 2022, and beyond.
If you've saved your payment information with ActBlue Express, your donation will go through immediately.
EXPRESS DONATE: $25
EXPRESS DONATE: $50
EXPRESS DONATE: $87
EXPRESS DONATE: $125
EXPRESS DONATE: $250
Donate another amount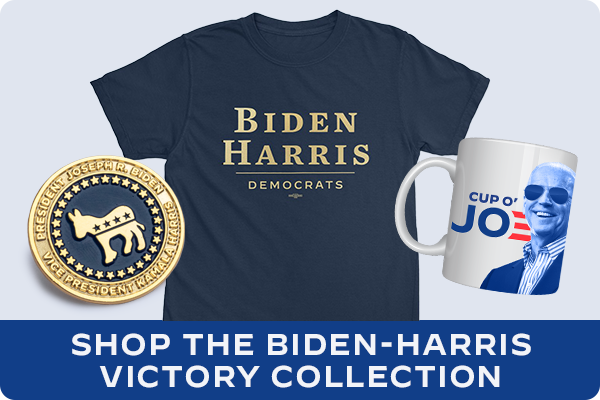 There's still plenty more to be done. But as I've said before: It's never a good bet to bet against the American people. I'm so proud of how far we've come in the past few months, and I am honored to work with you in the years ahead as we strive to make this nation more perfect.
Thank you, from the bottom of my heart.
Joe
Joseph R. Biden Jr.
President of the United States
---
Joe Biden: Derivative of Adam Schultz / Biden for President. CC BY-NC-SA 2.0
Manage how often you receive DNC emails, by filling out this form. If you no longer wish to receive emails from the DNC, submit this form to unsubscribe.
If you're ready to elect Democrats in all 50 states, territories, and D.C., make a contribution today.
Contributions or gifts to the Democratic National Committee are not tax deductible. Paid for by the Democratic National Committee, www.Democrats.org, and not authorized by any candidate or candidate's committee.