Congratulations Everyone On Two Really Strong Elections In A Row
NOV 10
Savor Our Wins, The Democratic Party Is Strong – So, some reminders as we
In the last 4 Presidential elections we've averaged 51% of the vote, Republicans 46%. 51-46 (+5). In the last 8 Presidential elections Democrats have won more votes in 7, and Republicans have only topped 48% once, in 2004, which was the last time they won the popular vote – 20 years ago. The last time we averaged 51% over 4 elections was in FDR's 4 elections from 1932 to 1944. America today is a center-left country.
We've now have "won" the 2018, 2020, 2022 and 2023 elections. It's a remarkable run. Our performance since the spring of 2022, in all kinds of elections across the US, even in red states like KY and OH, has been extraordinary. MAGA is a failed politics, the Republican Party is broken, and I am deeply optimistic about next year.
The resounding defeat of Youngkin's 15 week abortion ban "compromise" was devastating for Republicans, for they head into 2024 with no clear way of mitigating the ongoing, deep damage the stripping of rights from women is doing to their party. It's why we fought so hard in Virginia these past few months – we simply had to defeat the 15 week ban. For more on how cental this debate has become to our politics see Tom Bonier's terrific new op-ed in the New York Times, American Elections Are About Abortion Now.
Polling, should we be worried? I'm not. Just this week two large sample, serious polls had Biden up 48-44 (+4), and 47-45 (+2), and Navigator has found Congressional Dems gaining substantial ground in the battlegrounds. We have work to do, no doubt, but keep in mind that to believe Trump is leading, or in the high 40s or low 50s would put this horrible man in a place no Republican Presidential candidate has been in 20 years, at the same time Democrats are winning everywhere and gaining ground in the House battleground. I just don't buy it. I think we are in a close race now, with a much clearer path for us to gain, grow, expand and win in 2024 than Trump. I am confident that once our coalition is presented with a binary choice of Trump and Biden (Jan, Feb, March next year) that much of our coalition will come home, and we will then have a long campaign and strong arguments to bring the rest home, expand and get to 55 next year.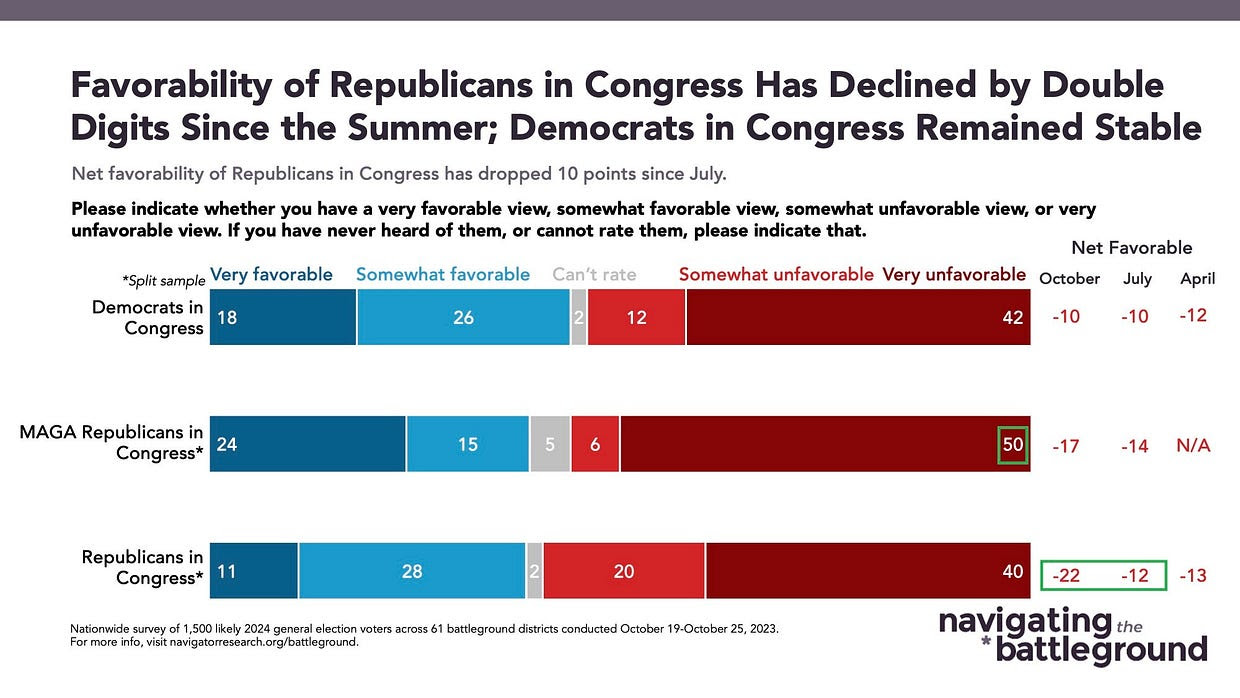 Given Our Ongoing Win Streak, Is It Possible Polling Is Not Capturing How Americans Really Feel About The Economy and Their Lives? – I am going to be coming back to this idea in the coming months but a reminder of this data from YouGov/Economist and the Conference Board I've been sharing of late that shows far more contentedness than is conventional wisdom:
Overall, how satisfied or dissatisfied are you with the way things are going in your life today? Satisfied 64%, Dissatisfied 35%
How happy would you say you are with your current job? Great deal/somewhat 80%, A little/not at all 19%.
Do you think your family income will increase or decrease in 2024? Increase 45%, stay the same 41%, decrease 15%.
Do you consider yourself paid fairly or underpaid in your job? Paid fairly 56%, Underpaid 38%.